Social and Behavior Change
Social and Behavior Change:

A critical part of effective family planning programs
This document provides a general overview of high impact practices (HIPs) pertaining to social and behavior change (SBC), including guiding principles for designing and implementing effective SBC programs. In this collection of HIPs, the term social and behavior change (SBC) refers to activities or interventions that seek to understand and facilitate change in behaviors and the social norms and environmental determinants that drive them. SBC interventions are grounded in a number of different disciplines, including social and behavior change communication (SBCC), community mobilization, marketing, advocacy, behavioral economics, human-centered design, and social psychology. SBC is an essential element of family planning programming, as it shapes not only demand for services, but also client-provider communication, couples' communication, and the engagement of community leaders and other influencers of health-related behaviors and norms.
Many implementers and researchers situate SBC in a socio-ecological framework (see Figure 1), which recognizes that determinants of health behaviors exist on multiple levels, are interrelated, and extend beyond the individual. Specifically, socio-ecological models acknowledge the influence of interpersonal relationships, community structures, and cultural norms and values on individual choices and behaviors.
Figure 1.
Socio-Ecological Framework for SBC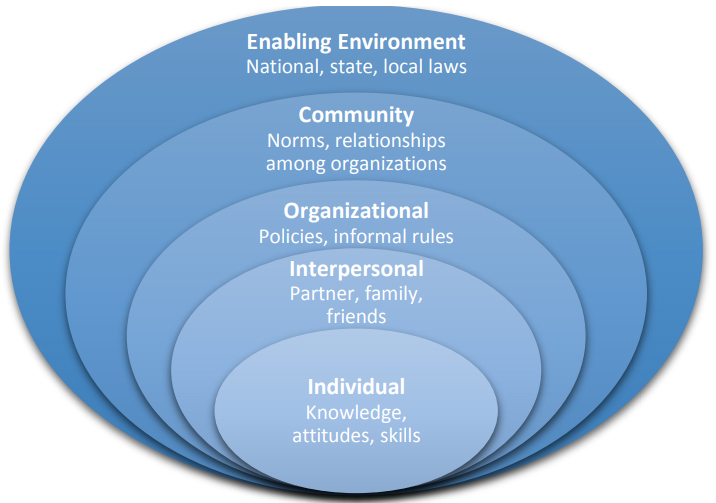 Systematic reviews conclude that theory-driven, interactive interventions that follow a tested design and implementation process[1] can increase knowledge, shift attitudes and social norms, and produce changes in a wide range of behaviors. In the context of family planning programs, well-designed and well-implemented SBC interventions can increase demand for family planning services, quality of services, and agency to use family planning by:
Creating demand for services and products
Supporting correct utilization of health products
Promoting healthy behaviors that are enacted outside the health system
Supporting provider behavior change and enabling positive client-provider interactions
Improving patients' ability to articulate and advocate for their needs
Shifting social norms that enable healthy behaviors
Effective SBC programming begins by identifying a set of priority behaviors that the program aims to influence. Behaviors like contraceptive use, delay of first birth, and birth spacing are composite behaviors: They are complex, multi-step behaviors. For instance, contraceptive use involves seeking information and services, obtaining a method, and potentially repeatedly taking or using that method. Formative research and behavioral analysis are vital to identifying the strongest determinants, motivators or barriers to each of these behaviors for the targeted audience.
High Impact Practices (HIPs) in SBC
The family planning community continues to learn from new and established approaches to SBC programming. Experience has shown that high-quality SBC programming utilizes multiple communication channels and/or non-communication-based approaches in a coordinated manner to achieve behavior change objectives. There are currently four identified HIPs pertaining to SBC: mass media, community group engagement, interpersonal communication, and digital health for SBC. This library will continue to grow as evidence is collected in support of new approaches.
To maximize programmatic impact, implementers should consider how SBC HIPs support or leverage other family planning activities. Service delivery HIPs typically include SBC activities that influence an individual's access to health services, interaction with providers, and maintenance of behavior following utilization of services. For example, SBC approaches can raise awareness about mobile outreach services, guide the development of youth-friendly services at social franchises and drug shops, and address provider bias in post-abortion family planning.
SBC also complements advocacy and policy-related efforts, contributing to the development of an enabling environment for family planning and reproductive health. For example, implementers may consider how SBC HIPs might be used to influence decision makers and galvanize expressed or institutional commitment for family planning, change policy, and ensure adequate financing for family planning programs. It is essential that SBC activities included within broader health and development programming adhere to the proven practices described below and in specific SBC HIP briefs.
Tips for SBC Implementation
Both research and programmatic experience have demonstrated that effective SBC interventions share a number of key characteristics (Noar et al., 2009; Abrams et al., 2008, Nation et al., 2003).[2] Programs may be most impactful when they:
Conduct or use formative research to identify barriers to and facilitators of behavior change in a given context, including the social norms and dynamics that underpin individual behaviors.
Ground interventions in theories of behavior change, learning, and communication.
Segment audiences into subgroups based on demographic, psychographic, and/or behavioral factors.
Consider providers as an audience for SBC interventions to facilitate improved quality of care, client experience of care, and improved service uptake.
Use a range of approaches to reach audiences in a coordinated manner, creating a "surround sound" effect in which key messages are directly and indirectly reinforced.
Communicate pretested messages that move beyond provision of information to address specific barriers to social and behavior change in a manner that is appealing, engaging, and compelling.
Promote couples' communication as an essential precursor to equitable gender norms, women's reproductive decision-making, and use of family planning products and services.
Promote community and stakeholder engagement and feedback during design, implementation, and monitoring and evaluation.
Regularly collect, share, and apply monitoring data for program improvement, with particular attention to questions of reach, fidelity to design/quality, and perceived behavioral impact.
Link closely to provision of health products and services to ensure effective coordination of supply and demand.[3]
[1]Examples of tested approaches for design and implementation of SBCC programming include Johns Hopkins Center for Communication Programs' P-Process, FHI 360's C-Planning, PSI's DELTA, UNICEF's ACADA Model, Designing for Behavior Change , and other processes that encompass systematic review of data; identification of audiences, messages, and channels; pretesting of creative outputs; implementation; and evaluation.
[2] Nation, M., Crusto, C., Wandersman, A., Kumpfer, K. L., Seybolt, D., Morrissey-Kane, E., & Davino, K. (2003). What works in prevention: Principles of effective prevention programs. American Psychologist, 58, 449-456.
[3] See HC3 Service Communication Implementation Kit. https://healthcommcapacity.org/hc3resources/service-communication-implementation-kit/
View the previous version of the related HIP published in October 2012.